News
2014-03-18
Team Kwagga Newsletter | Issue 2
So we lost the 2013 championship by a single point, boo-hoo-hooo!
(Why does this heading look familiar….)

Those of you that follow Team Kwagga on Facebook will already know that we received Kwagga back from LR Spraypainters in Brakpan last Friday morning 1 Feb, just 8 short days before the first event of the 2014 Maxxis SA National 4x4 X-Track Racing Championship. This first event will take place at the Parys Golf & Country Estates on the right hand side of the R59 towards Parys, about 2km before Parys from the N1 south. This is the same venue as last year for those of you that can remember that far back!

In any case, while driving through Olifantsfontein with Kwagga behind me on the trailer on the way home Friday afternoon, this little voice in my head got louder and louder until I remembered that Kwagga had suddenly lost two cylinders when I off-loaded it at LR Spraypainters 3 weeks ago! So I pulled into Jan Blackie's shop Totally Tuned in Olifantsfontein for his verdict on the source of the problem. Kwagga was diagnosed with terminal spark loss due to a fried coil pack which blew the coil drivers on our Spitronics engine management system! Jan phoned ahead and arranged a replacement ECU and a set of new and hopefully more reliable coil packs than the stock Toyota items from Spitronics. I drove like a maniac to fetch it from their shop before they shut down at 16h00 on a Friday afternoon. Saturday morning early Arno and I met Jan at his shop and we started with the upgrade. We used the time well to fix a number of niggles that made it onto my to-do list since our last event at Ermelo while Jan did his magic in transferring the engine mapping onto the new ECU. Everything came together in the early afternoon African heat and Kwagga was alive again, Yeah Baby!

So we loaded Kwagga onto the trailer and dragged his ass to my house where we did some more maintenance before calling it a day. Just to be sure that all the fixes were effective, I took Kwagga around the block at full taps, spinning those rear Maxxis all the way through first gear and then some! It was a glorious feeling I assure you!

There are a couple of small things left that need attention before Saturday, but we have plans for all of them. I guess the most important one is to replace our steering oil cooler that got damaged in one of the many roll-overs Kwagga enjoyed so much last year, just like a Zebra rolling in the African dust to rid itself of ticks and fleas! Ventura Engineering Equipment in Route 21 Park next to the R21 kindly sponsored a replacement cooler, thanks Fritz!

Just because I find it interesting, below is a list of our rolls from last season accompanied by pictures where I have them. Note that I find the pictures of impending doom much more interesting than the actual event, thus not all pictures show Kwagga explicitly turned over and stationary, but rather more interestingly somewhere during the course of events!

1. Rayton practice, 26 January, even before the season started! The engine hadn't been dyno tuned yet and was performing poorly, but still we tried a number of times to get up this seriously steep incline coming out of a mud / water pit. Did I mention that the incline was lined with conveyer belting and that the water we carried with us out of the pit onto the belting made it slippery, very slippery! This was a mild quarter roll onto the left side, nothing to worry about…..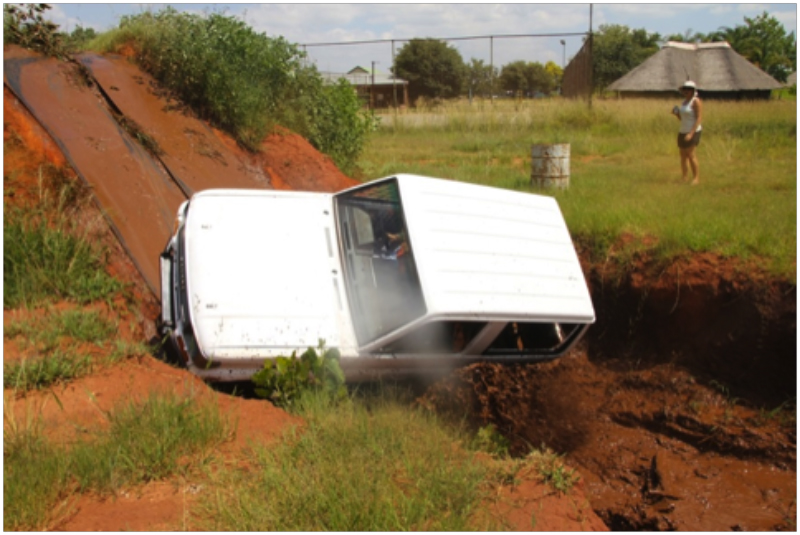 2. Rustenburg, 16 March. Second obstacle of the event and we did a half-roll forwards combined with a half-roll-pirouette to the left to land back on the wheels with engine still running! Kwagga was squashed flat, what a sad sight. This led us to lengthen the wheelbase and loose the roof, for a short while we called it Kwaagga, with an extra bit added in the middle!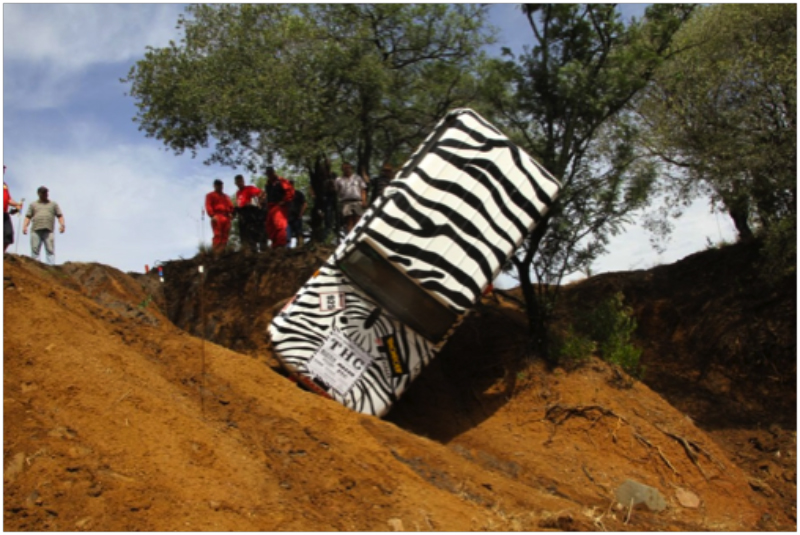 3. Polokwane, 27 July. This is what happens when you are frustrated with obstacles that give little or no chance to catch up after a few mishaps in the first couple of obstacles, you take the big chances! 1 1/4 Roll to the left was the end result, ouch… I don't have a picture of this one, maybe it is better thus!

4. Brits, 24 August. This one hurt the most! We received Kwagga back from LR Spraypainters on the Monday before the event. They had to use 6 x 5-litre cans of body putty to fix the damage from the Polokwane roll! Brits did not go our way at all and ended with this last obstacle disaster, first a quarter roll onto the right hand side which was bad enough. Then we tried to get it back onto the wheels with the aid of the front diff lock only to execute a full 1 1/2 left roll back onto Arno's side! OUCH!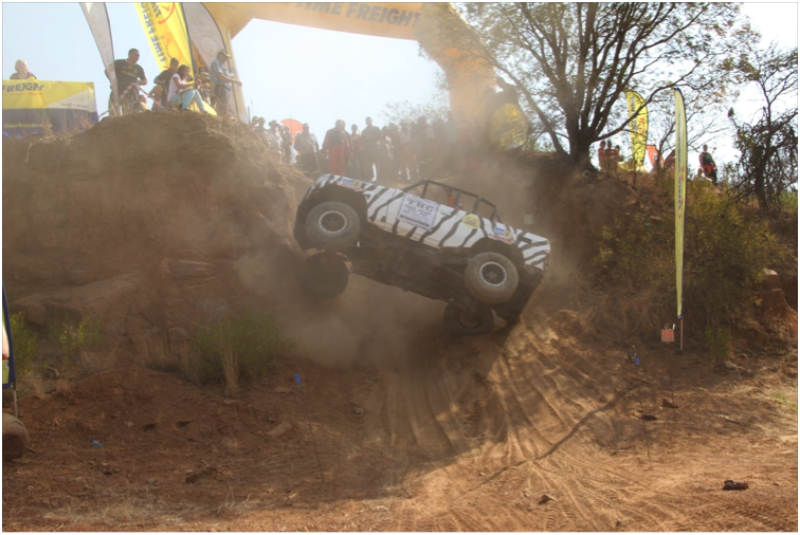 5. Jo'burg Motor Show somewhere in October. Arno did demonstration drives on the rock as part of the Maxxis exhibition stand and landed Kwagga on the roof after a mild ½ roll to the right. Nothing spectacular, but the rock took its toll on Kwagga's bodywork. No pictures of this one, use your imagination this time….

6. Rayton National, 2 November. The final event of the season and we were leading the championship chase, we had it all to loose. Which we did, spectacularly, losing the championship by a single point! 222 Points for Team Kwagga against 223 for Shaun and Lynette Kruger! This roll happened at the 2nd last obstacle where we desperately tried to erase the deficit, only to perform a ¼ turn onto the left hand side after the valiant attempt in the picture below by Arno to get to the top, all in vain…..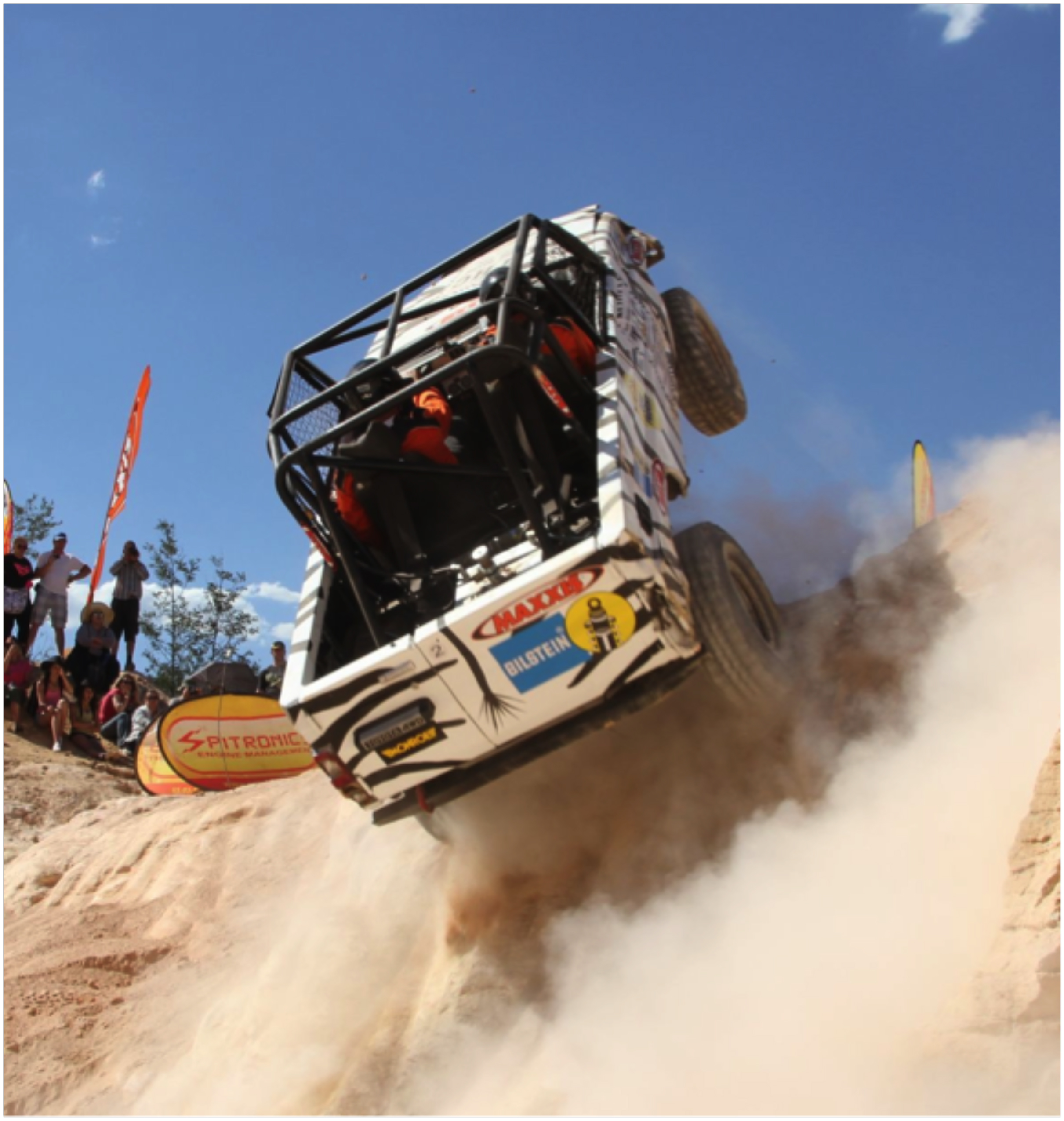 7. Ermelo Invitational, 30 November. We had so much fun at this event because the Championship was done and dusted and we had nothing to lose. So, in true Kwagga style, we gave it everything and then some! One of these exuberant excursions up an impossible sandy heap about 5 times as high as Kwagga ended up in us rolling 1 ¼ turn to the left. The funny thing is that, as we came tumbling down the heap ignobly, I kept on expecting Arno to hit the throttle and get us the hell out of there! Turns out the ignition had cut the engine due a loose earth wire and Anro's best efforts at saving something from the ashes were all in vain! No pictures, sorry, time to visualise the events as they unfolded in your mind's eye, again….

And so in December we fitted a new nose to replace the squashed parts. Then in January we had a new roll cage fabricated by Delberg Engineering, took it to LR Spraypainters for another couple of 5-litre cans of body putty followed by a new coat of white paint and here we are, ready for the new season again!

Hope you enjoy our new format newsletters, please hit me with your comments on koos.ziets@gmail.com. Don't be shy now, send both positive or (hopefully not) negative comments as we continuously strive to improve what we offer. We look forward to another great season ahead, hope to see many more of you out there this season!

KooZ