Follow us on

. For more info contact Koos Zietsman on +27 (0) 82 783 7463 or koos.ziets@gmail.com

LINKS TO SPONSORS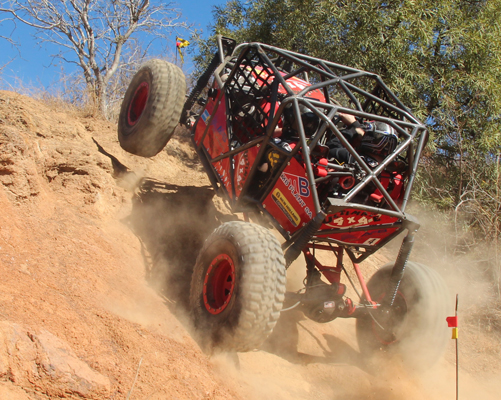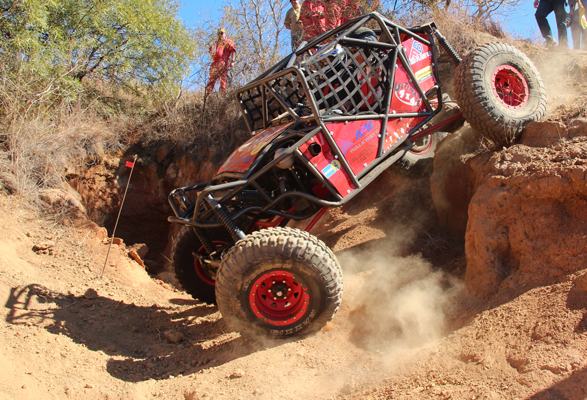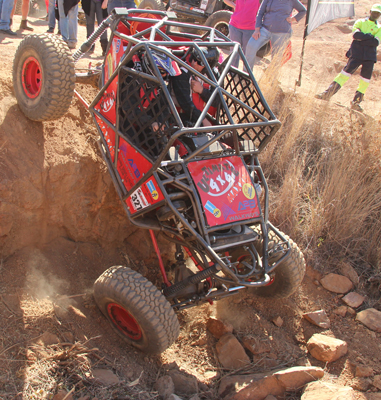 Ultimate 4x4 photographs courtesy of Tonie Botes
ULTIMATE 4X4 SPECIFICATIONS
Part

Description

Specification / Description of modifications

Engine

Toyota 3SGTE ST215

2.0 litre 4 – cylinder inline turbocharged unit

Dictator engine management system. Dyno tuned by Johan Minnaar at MRD Racing in Pretoria West. 120kW with 162Nm torque at 5200rpm.

Cooling

Volkswagen Golf 1 Diesel Radiator system

We use a Genuine Volkswagen radiator and Genuine Volkswagen overflow bottle that run in a closed circuit.

Fuel System

The fuel tank is aluminium racing fuel cell we bought from ATS in Randburg. The fuel pump has a Parker strainer (bought from Turboformance near Nelspruit, info@turboformance.co.za) between it and the fuel cell to prevent debris from jamming the pump. A fine particle filter between the pump and fuel rail ensures the engine gets clean petrol.

Exhaust

A Short 90mm (3.5") diameter exhaust pipe with a small free-flow silencer.

Clutch and Flywheel

Standard Toyota parts

Standard Toyota Hilux Pressure plate, Camry clutch plate and 3SGTE flywheel.

Transmission

Toyota Camry 2.0 Manual Gearbox with BRADBRI Engineering spool and output shaft

The engine is mid-mounted and directly coupled to a Toyota Camry front wheel drive gearbox. The whole lot is rotated 90° so what would normally be the left side shaft output becomes the prop shaft to the front diff and the right output drives the rear axle through a prop shaft. The good guys at Bradbri Engineering Manufactured a new Z-Factor spool with splines through the middle to replace the original differential. This is combined with a splined output shaft that runs through the centre of the spool to keep the front and rear output shafts locked. The rear prop shaft drives through a Trail Tough disconnect system bought from Ultimate Off Road. Selection of this unit is by double acting pneumatic shift cylinder. The compressor is an ARB unit and the pneumatic cylinder and valve were supplied by Mavtech Automation in Centurion.

Prop shafts

PG Propshafts

Special high torque units hand build by PG Propshafts in Montana.

Front Axle

Standard FJ45 unit with modifications

The front diff centre portion is a FJ80 unit with a 4 spider carrier and a 3.7 ratio bought from Toyota. We then bought Chrome-moly 30-spline side shafts and Marfield 30-spline CV joints from Ultimate Off Road.

Rear Axle

Cruiser FJ100 rear axle with modifications

The rear axle started as a Land Cruiser FJ100 rear casing. We then fitted an FJ80 centre portion with a 4 spider carrier and 3.7 ratio bought from Toyota. The casing was shortened on the left side by PG Propshafts, Montana to get the centre portion in the middle. This allowed us to fit new genuine Toyota Hilux YN 4x4 imported side shafts to drive the wheels.

Wheels

Maxxis Bighorn MT762 35x12.50 R15 tyres mounted on Z-Factor bead lock rims

The wheels started as 6 hole Pro white 15" 8J steel rims. Carl van Vuuren helped to have 5mm thick Z-Factor steel spacer rings welded to the rims. Added to this are 12mm thick spacer rings to centre the tyres followed by a 6mm thick clamp ring on the outside. The whole sandwich is held together by M8 x 40mm Grade 8.8 high tensile bolts fitted with Nyloc nuts. Tyres are Maxxis MT762 Bighorn 35x12.50R 15 babies, the best in the business! We run the front and rear tyres on 0.3bar to get the best traction and side slope grip without the tyres folding under.

Dampers
(Shock absorbers)

Bilstein

Dampers (shock absorbers) with 350mm travel are special units designed and manufactured by Bilstein Uk.

Springs

Coil springs are Z-Factor designed and manufactured to suit the car.

Front Suspension

4 link system with an A-Frame on top. It is connected by spherical bearing joints manufactured by Lukas Holtzhausen in Rustenburg.

Steering

Full Hydraulic system

The complete unit consisting of a hydraulic steering cylinder, orbital valve and pump are Trail Gear parts we bought from Ultimate OffRoad. The steering oil reservoir started out as a Toyota Hilux unit that was modified by Carl Van Vuuren to carry more oil, thus reducing oil heat build-up in the tight stuff.

Hand brake

Standard Toyota

Toyota Hilux Vigo 2010 model brake system just to keep everything new and working.

Roll Cage & Frame

Ultimate 4x4 & Carl Van Vuuren

Ultimate 4x4 built the frame from scratch. All the pipes were bent with a home built pipe bender that was loaned from Machiel Oberholzer. Carl Van Vuuren and his guys finished off the job by welding the complete frame and brackets together.

Seats

Fibre Glass Seats

Custom lightweight fibre glass bucket seats bought from Rory's Workshop in Pinetown.
View the 2015 4XTR calendar here